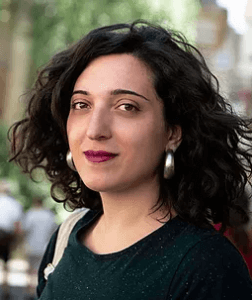 Alma Federico is one of our emerging artists. She is now based in Caversham painting local street scenes and landscapes, and still-lives. We asked her if she could tell us a little bit about her work, her inspiration, and her influences so that you could understand where she is coming from in the lead up to her window exhibition Intimate Landscape in May.
I am an Italian artist based in Caversham.  
I have always had a deep connection with my roots and my identity as a woman coming from the south of Italy. My subjects have always been related to the sense of intimacy that memories of my childhood bring me, especially those related to familiar landscapes of my homeland. 
All the stories and all the people I met bring me a sense of intimacy that never left me. 
During my years of study as an art student at the Accademia di Belle Arti in Rome, I discovered new techniques and I became really interested in wood carving and etching, as they helped me to find the right artistic shape to that particular idea of intimacy. 
I moved to the UK in 2015 with the aim of finding new sources of inspiration as well as exploring a new and different art scene.  
Like all the changes, even this one has been challenging for me. At the beginning I had to temporarily put aside my artistic research, as I felt I needed to become more aware of what I could be interested in, and fascinated by: I needed a new intimacy. 
After a few years I have now become more aware of what I can use for my personal research, finding the answer in the British nature and scenery. 
At the moment exploring ways to represent the British nature has become my new goal, without giving up my need to depict intimacy; I am thus representing small objects I have around and which allow me to enjoy the study of their appearance as well as what they mean to me. 
The main technique I am using in this new path is painting in acrylic or oil, because I believe colour is what I need at the moment. I also think that I switched my tendency to be essential and minimalistic for a more detailed and faithful depiction of the projection of my feelings onto the object I am representing.