We recently designed and created a bespoke picture frame for a photography client. The overall large scale frame measured approximately 2m x 3m and required four people to transport!
This was our largest picture frame to date. Our skilled team of conservation framers always enjoy a challenge and seeing what exciting new picture framing request will be next through the door!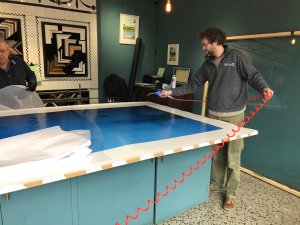 With high-gloss photo paper, we use air to ensure the surface is clean.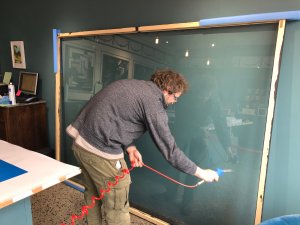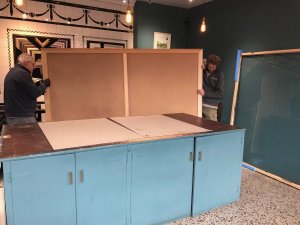 The handcrafted inner frame gives additional support and structure.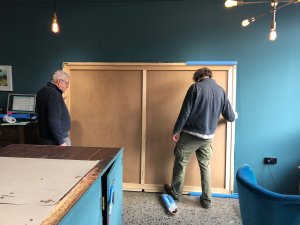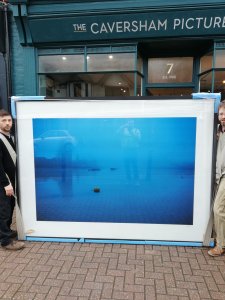 We were delighted with this impressive picture frame and pleased to hear the photograph is now on display in a gallery.
Designer Frames
Our bespoke picture framing service is tailor-made to every individual customer and order. We will listen to your requirements and offer our professional advice to ensure we create your perfect picture frame. Whether you have a clear idea of how you would like your artwork framed or are undecided, by visiting our shop and speaking with an experienced framing consultant, we promise you will have our undivided attention. We will offer guidance and our expertise to ensure your artwork will be enhanced and beautifully presented. If you are looking for readymade frames, we also stock a wide range of standard sizes in our shop.
As conservation picture framers we can guarantee the preservation of your artworks. From the great care we take handling and framing your artwork to the acid free materials we use. Our selection of top grade glass will also prevent fading without compromising the appearance.
You will be able to choose from our vast range of mount card colours and designer frames in addition to discussing specific design details or requests you may have. We will happily assist in helping you decide on your preferred mount card colours, dimensions and scale to complement your artwork perfectly. Similarly, selecting the right frame to enhance both your artwork and mount card colour is also where we can offer our expert advice.
Please visit our page on conservation frames to see other bespoke picture frame designs we have created.