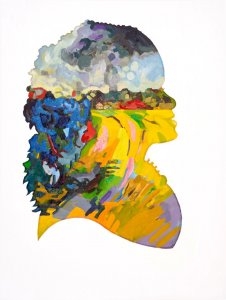 Charles Burns is a master at his craft often seen snipping at paper then revealing your silhouette portrait in a matter of seconds.
"Silhouettes seem like such a tiny niche in the world of art, yet for me this seemingly-simple craft has expanded to take over my entire world. It has taken me in directions I never could have imagined or planned when I first picked up a pair of scissors."
Charles Burns began his career as a street artist, drawing 10-minute pencil portraits for tourists in Covent Garden. Whilst there, he taught himself the lost art of the silhouettist: cutting black-paper, profile portraits freehand with scissors. Soon silhouettes had taken over his life. Charles cuts portraits at events all over the world and many celebrities have posed for him, including the Queen.
From 28th June to 3rd August Charles is exhibiting a new series of paintings at The Caversham Picture Framer, which combine silhouettes with Berkshire landscapes close to the artist's Caversham home. In response to his latest works Charles said: "Taking a walk in the countryside feels like a return to nature; it's easy to forget that we all live in an artificial landscape. The silhouette stands as a symbol for humanity as a whole, a metaphor for our Anthropocene Age. Each silhouette is clearly an individual portrait, yet they also represent human kind: the shadow of human activity, cast over everything we see. They remind us of the shadow we each cast on the world."
A selection of Charles Burns work will be on display and available to buy at The Caversham Picture Framer, 7 Church Street, Caversham RG47AA, from 28th June to 3rd August.