On Friday 8th February we hosted a private view for our latest exhibition showcasing the work of local artist, Ginny Skinner.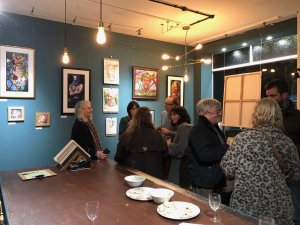 9th February – 16th March 2019
Ginny Skinner is an artist, writer and comic book creator based in Pangbourne. Her paintings are in oil and acrylics on the themes of modern magic, folklore and paganism. Ginny is inspired by the natural world and fairy stories which influences her work. With a love of illustration and drawing, Ginny also has a collection of original, one-off signed sketches in addition to limited edition giclée prints. Prior to becoming a full time artist and writer, Ginny worked as a story board artist and animator. During this time she became intrigued by comics and magic which led to her current work and style. She is also the artist and co-writer of the novel Briony Hatch with her sister Penny and features in the Cartoon Museum's Inking Woman exhibition and the book of the same name.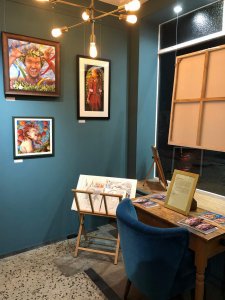 If you would like to hear more about our future exhibitions and receive an invitation for private views, please drop by, email or send a request via the website to join our mailing list.