In her own words Simone Bonnett introduces her inspiration and drive to create her beautiful works of art: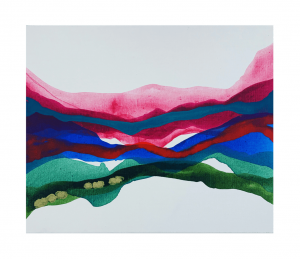 Ever since I can remember I have been driven by the colours, sounds and smells of my native Africa and also those of my various travels. It's the visceral responses that I carried back with me and not the cheesy posed beach or mountain pics.
Wandering through bustling markets filled with beads, bold primary colours, delicious (and not so delightful) smells of cooking and the deafening noises of traders plying their wares or negotiating hard. The first step you took into a dark covered market and your senses were overwhelmed by the brass, coloured fabric and heady mixture of spice and incense hanging heavily in the air. Everywhere around you a riot of colour, pattern, form and texture. These are the memories and impressions I carry over into my art practice.
No two processes are the same for any piece that I undertake. They do all have one thing in common though and that is they start with a 'colour moment'. These colour moments can happen at any time but they usually surprise me when I'm doing something else. I could be browsing on Pinterest and spot a colour combo I like, it could be a book cover that's inspired me to try something, a piece of fabric, a lovely mug, an outfit…just about anything can inspire one of these colour moments. I've even been inspired by the packaging on a pack of traditional shoe polish before!
Once I've decided on a colour palette then I start thinking about medium and surface. I tend to go through phases of favouring either resin on cradled wooden boards or acrylic on stretched canvas. I find both these combinations to be versatile enough for me to use a broad range of colour as well as introduce other elements such as gold leaf or natural textural elements such as bark or leaves or experiment with techniques. My current focus is on acrylic and canvas which I am now expanding to large format – the bigger the better.
Acrylic pouring using fluid acrylics mixed with water is a favourite technique which I often use to put down the bones of a piece. There is an unpredictable aspect to the medium which I find quite exhilarating because you're never sure where the paint is going to go or how it's going to look in the finished state. An excellent example of this is my recent piece titled 'In Another Land' where I started with the initial acrylic pours in a series of ribbons. Once these had dried, the piece felt very much like a Japanese landscape so I added in the bright yellow sun. It looked too neat and was missing a sense of mystery so the next step was to add some wildly placed drips. To finish it off I added rose gold leaf which worked well with the colour palette. 'In Another Land' feels very dynamic as a result of the experimentation with the acrylic pouring.  
I always feel like the piece should lead the artist and not the other way round. For me the journey is as important if not more so than the finished piece.
To see more artworks by Simone Bonnett please have a look at our selection in our Art Gallery.