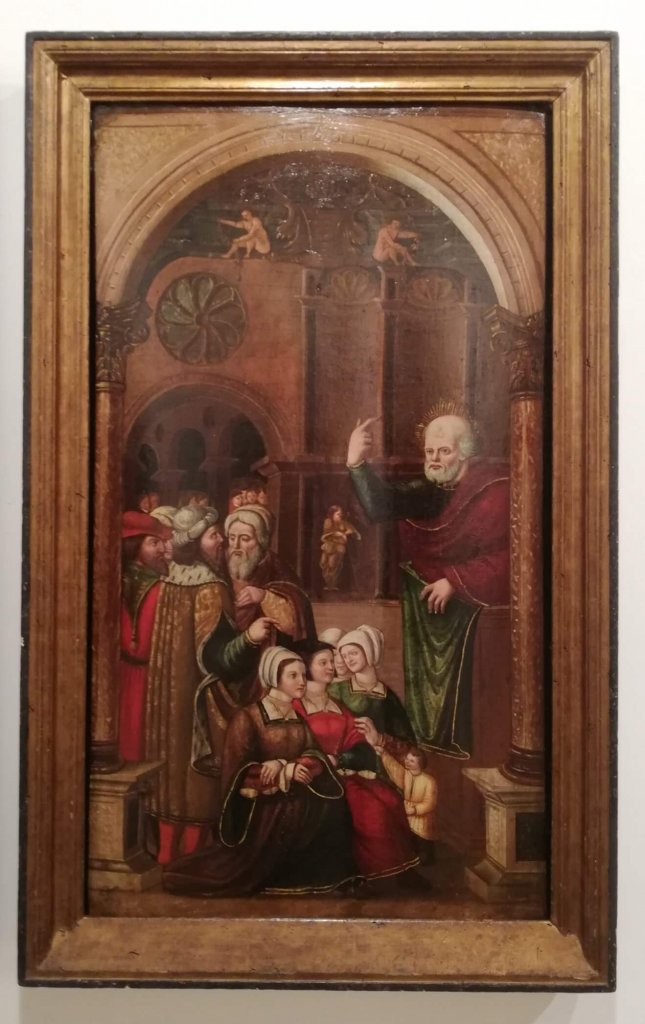 During my visit to Bodegas Tradición in Jerez, when holidays were a thing, I saw a very unusual frame (above). On three sides it was a typical Cassetta frame (square sided) which is like most modern picture frames. However, the bottom was different. The effect was a subtle transition of perspective which lead my eye into the picture. It made me easily accept the architecture of the image and suggested that I stood looking through a window witnessing the event happening beyond rather than just looking at a picture. For me this was a very powerful visual aid. More so than typical Tabernacle frames, but it is clear that it came from this tradition. I think the result also reflected my personal tastes and has encouraged me to discover more about the now less common Tabernacle frame style.
Tabernacle frames are typified by asymmetrical sides and strong architectural features. Often considered a religious style, this type of frame emerged in Italy during the Renaissance (1). Tabernacle frames are interesting for their wide range of regional designs (each city state having their own tastes) and for their relationship with the architecture of the buildings in which they were placed.
Early picture frames were engaged. This means they were integral to the overall object. The mouldings were nailed to the painted panels or sometimes carved from the same piece of wood (2). These were then prepped together with gesso (plaster and animal glue mix) before painting and gilding. When these pictures were for religious purposes the frames were vital for the protection of the artworks. Most were for altars and were designed to be folded up to hide the primary religious figure. Others were for smaller works that would have been used on traveling alters. Both types were extremely expensive and had a high spiritual value. The raised nature of the frame kept the folded wood screen away from the image thereby protecting it.
Guariento di Arpo's Madonna of Humility (1345-about 1376)